Scoliosis and Schroth Therapy
What is scoliosis? How do we treat scoliosis at Integrative Therapies and Wellness?
At some point in our lives, we have likely all heard the term "scoliosis". Maybe you know someone who has been diagnosed with it. Maybe you remember going through a screening clinic in middle school or junior high where a school nurse or teacher had you bend forward to look for a curve in your spine or a rib prominence on your back. Scoliosis is often thought of as a disease of adolescence (which is typically when it is commonly diagnosed). However, individuals of all ages can present with scoliosis.
So, what is it? Typically, when a person thinks of scoliosis, their first thought is of the "s" curve.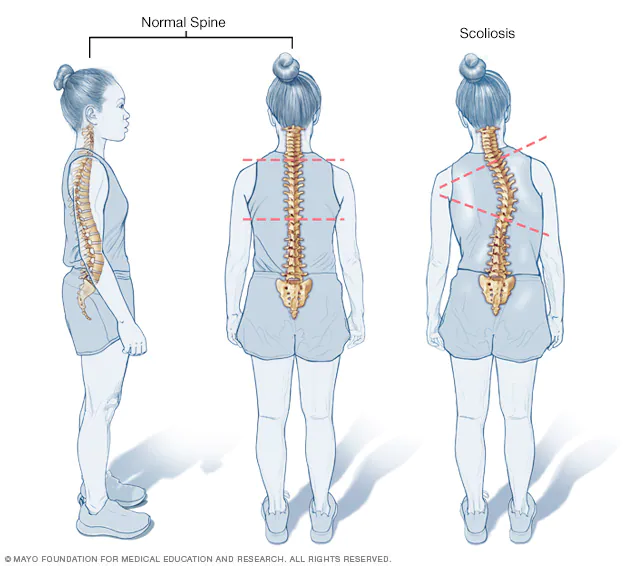 In this illustration, the spine on the right is what we see one dimensionally in an individual with scoliosis. The spine of this young woman is curved to the right. But scoliosis is not a one-dimensional affliction. As you can see, our spine is made up of multiple small bones, called vertebrae, that are stacked on top of each other. They fit together in a beautiful puzzle to provide stability for our trunk and appendages, but also fit together in a way to provide mobility so we can work, play, and live active lives. Our thoracic vertebrae, which makes up the middle portion of our spine, also provide an attachment space for our rib cage.
Sometimes, for reasons that are not always clear, as we grow and develop, or as our bodies experience trauma and tension that causes restrictions in the soft tissue attached to our spine, the vertebrae of the spine start to rotate. As this rotation continues, the pressure on the vertebrae can actually cause them to change shape. This contributes to the formation of the "s" curve of the spine that we traditionally see when we think of scoliosis.
Scoliosis can range from very mild to quite severe. If left untreated, scoliosis can have long term negative effects on an individual's health including cardiopulmonary compromise, chronic pain, impaired mobility and function. And this is just the physical effects. Scoliosis can also have an adverse effect on the emotional and mental state of an individual affected by it.
So, how do we treat scoliosis at Integrative Therapies and Wellness. We use a variety of tools, including Myofascial Release, traditional physical therapy interventions for core stability and flexibility, and the Rigo Schroth Method. We use Myofascial release to find restrictions in your myofascial system that may be contributing to postural imbalance seen with scoliosis. By releasing the restrictions of the tissue attached to and surrounding the spine, pelvis, shoulder girdle, and rib cage, we are preparing those structures for the next steps of intervention that are designed to re-align your scoliosis from the inside-out (the Rigo Schroth Method).
The Rigo Schroth Method is a physical therapy protocol that employs the use of breathing patterns in combination with postural corrections and isometric muscle activation designed to use the rib cage to help re-shape the spine from the inside-out. It is a gentle, but effective form of physical therapy that can be progressed as the individual grows stronger. Once an individual learns the components of the program, it is something they can also continue at home to maintain their posture as well as overall fitness. We will be sharing more about the Rigo Schroth Method, and how it can benefit individuals without Scoliosis as well, in a future blog.
Our interventions do not replace bracing, if any individual has already been prescribed a brace by their orthopedic provider. However, they work alongside bracing with goals of preventing the progression of scoliosis, and ideally promoting a decreased angle of the scoliosis, in turn hopefully stopping the need for surgical intervention.
Do you think you or someone you love may have scoliosis? Here are some things to look for:
Uneven shoulders

One shoulder blade that appears more prominent than the other

Uneven waist

One hip higher than the other

One side of the rib cage jutting forward

A prominence on one side of the back when bending forward
Reach out to our practice for a free scoliosis screening, or if you or someone you know has already been diagnosed with scoliosis and you are interested in learning more about how we can serve you.
Lindsey Laux PT, DPT
Integrative Therapies and Wellness
Stay connected with news and updates!
Join our mailing list to receive the latest news and updates from our team. Your information will not be shared.
-----THIS INFORMATION IS NOT A SUBSTITUTE FOR, NOR DOES IT REPLACE, PERSONALIZED MEDICAL ADVICE, DIAGNOSIS, OR TREATMENT. IF YOU HAVE ANY CONCERNS OR QUESTIONS ABOUT YOUR HEALTH, YOU SHOULD ALWAYS CONSULT WITH A HEALTH-CARE PROFESSIONAL. THE USE OF ANY INFORMATION PROVIDED IS SOLELY AT YOUR OWN RISK. -----